BuMA™ Biodegradable Drug Coating
Coronary Stent System
The new generation of biodegradable drug eluting stent is developed by SINOMED to solve the persistent safety problems of late stent thrombosis in the 1st generation of DES products. The perfect combination of innovative design and fine processing lays a solid technical foundation for outstanding clinical performance of the product.
Note: This device has not been CE-mark approved and is not for commercial sale in the EU.
BuMA™ is based on a unique design that possess technology advancements to solve the problem of 1st generation drug-eluting stents and enhances the safety benefits of bare metal stents. It is based on two different functional layers grown on the surface the metal (316L stainless steel) by chemical bonding: eG™ coating base layer (poly (n-butyl methacrylate coating) and biodegradable poly (lactide-co-glycolic acid) (PLGA) drug carrier in combination with Sirolimus.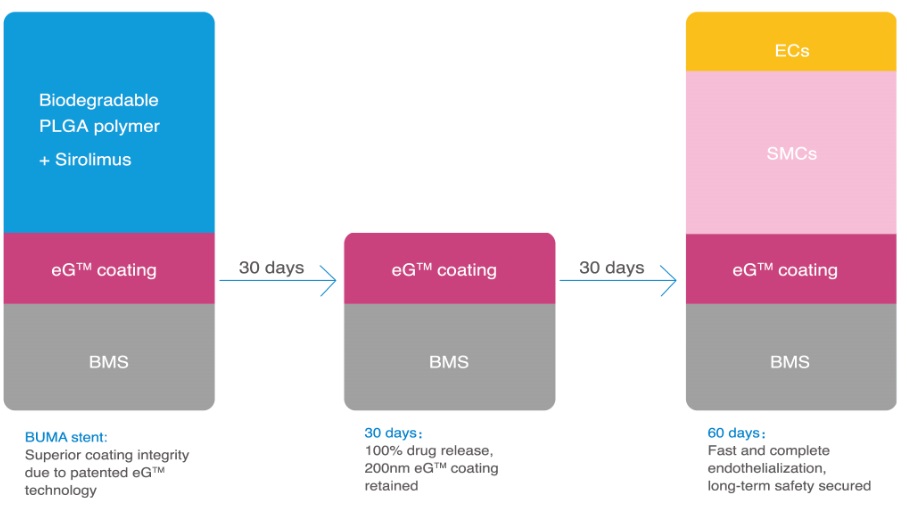 The drug release curve is similar as Cypher™ with a duration of 30 days. After this period, no drug residue will be found on the surface which optimally promotes early endothelial healing. 60 days after implantation, BUMA™ secures a uniform and complete endothelial coverage. With the supporting base layer and gradual degradation of PLGA polymer, BuMA™ has achieved excellent coating mechanical integrity and 100% release of the drug substance. This reduces stent thrombosis, in stent restenosis and other problems caused by the unhealed endothelium and local inflammation response.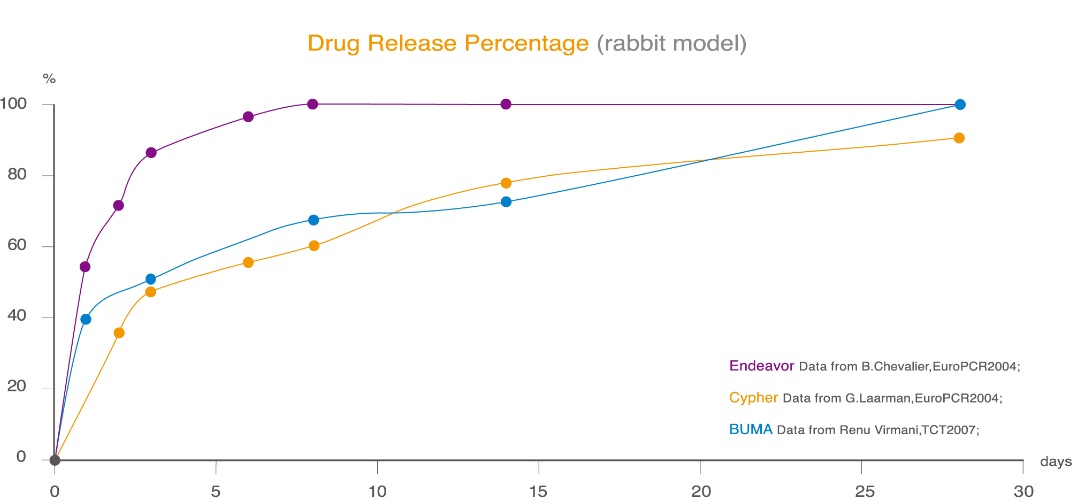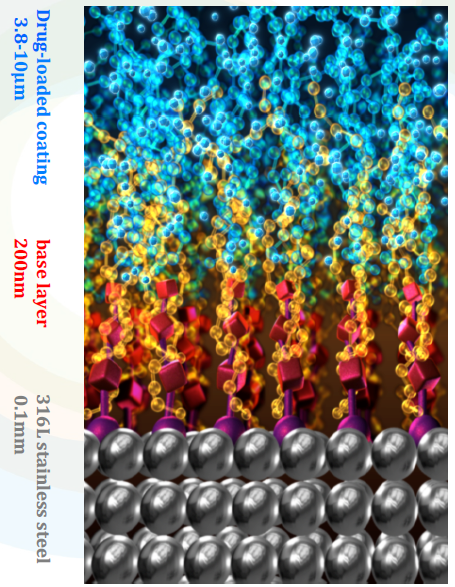 Electro-grafting, the ideal coating solution for optimal adhesion and long-term safety
Through global collaboration, SINOMED adopted electro-grafting technology for its application on BuMA™ from a French company named AlchiMedics. Electro-grafting coating technology is a process of creating nanometric Velcro polymer layer to a metallic surface. It is a covalent bonding with a thickness of 100 to 200nm to the surface of the metal which generates polymer chains for optimal adhesion of biodegradable polymer and excellent uniformity on the complex stent surface. The base layer secures adhesion of the biodegradable PLGA matrix, and prevents from cracking and delamination upon expansion as result of interdigitation between the surface-anchored base layer polymer chains and the top PLGA matrix. The base layer also has the benefit of suppressing corrosion and ion release from metal stent substrates which could contribute to a lower local inflammation response in vivo.
Outstanding engineering boots your confidence
Bench testing conducted by Medtronic Lab. Data on file at SINOMED.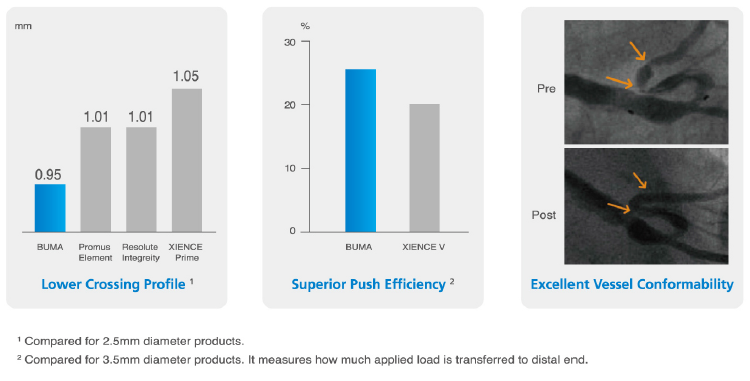 Strong adhesion function by eG™ coating system reduces cracking and delamination during expansion and over time.
Nanometric uniform layer of 100nm to 200nm promotes endothelial healing and inhibits inflammation from heavy metal release.
30 days complete drug release promotes early endothelial healing.

BuMA™ is available in a unique 3.25mm size for accurate sizing that optimizes normal and acute performances.