BuMA® Biodegradable-Drug-Coating Coronary Stent System
The BuMA® Drug-Eluting Stent (DES) has an inert eG Coating™ and biodegradable PLGA drug carrier. Together, these two layers form a robust polymer with an elution kinetic that balances the reduction of hyperplasia with the return of a functional endothelium. This early functional healing could result in safer long-term results with the BuMA® DES.
Through an electro-chemical process, eG Coating™ is synthesized onto the surface of the stent, creating a filament-like structure that interdigitates into the matrix polymer layer. This technique creates a robust coating integrity that is resistant to flaking, pealing and cracking.

Lower drug dose and optimized release kinetics
Sirolimus dose and release kinetic were designed to hindering neointimal hyperplasia, while allowing for an earlier return of functional healing.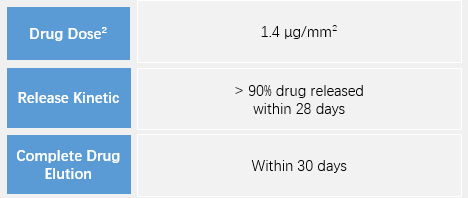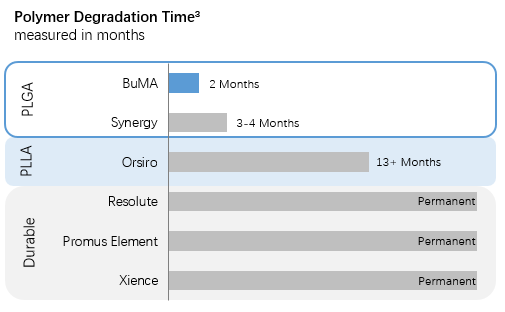 Rapid absorption of polymer
Following the absorption of the PLGA polymer, only the stent is left behind with eG Coating™. No inflammatory residue remains in the patient after two months.
The overall stent design and helical pattern of the S-Links allow for exceptional flexibility and conformability of the stent.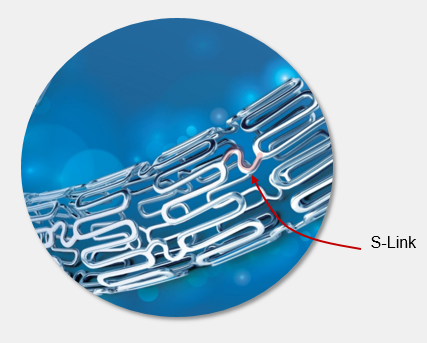 1.Track test was performed in a 37°C water bath with an ASTM tortuous path model. Data on file.
2.Data based on in vitro tests. Data on file.
3.Rizas, Konstantinos D., and Julinda Mehilli. 2016. Circulation: Cardiovascular Interventions 9 (6): 1–13.