Date:2017-06-01
The 15th China Interventional Therapeutics Conference (CIT2017) was held in Beijing, China between 30th of March and 2nd of April 2017. On 31th of March, SINOMED has hosted its annual satellite luncheon symposium with as topic: "Solutions of coronary intervention from SINOMED".
This year, the satellite symposium primarily focused on 4 topics: Global PIONEER IDE Pivotal Trial (2nd generation DES of SINOMED), latest development of PIONEER-II in China, cases on coronary interventional products of SINOMED used in PCI complex lesions and results from PANDA III (post-market RCT trial of BuMA™, 1st generation DES of SINOMED). The session was chaired by Junbo Ge, Shubin Qiao, Guosheng Fu, Wasan Udayachalerm (Thailand) and Teguh Santoso (Indonesia) and accompanied by Prof. Alexandra Lansky, Prof. Lei Ge, Prof. Chun Liang, Prof. Xuejun Jiang and Prof. Bo Xu with special highlights on the launching of two SINOMED Balloon Series Products; MACH2™(Semi-compliant balloon catheter) and BRAVO™ (Non-compliant balloon catheter)as they have received CFDA approval.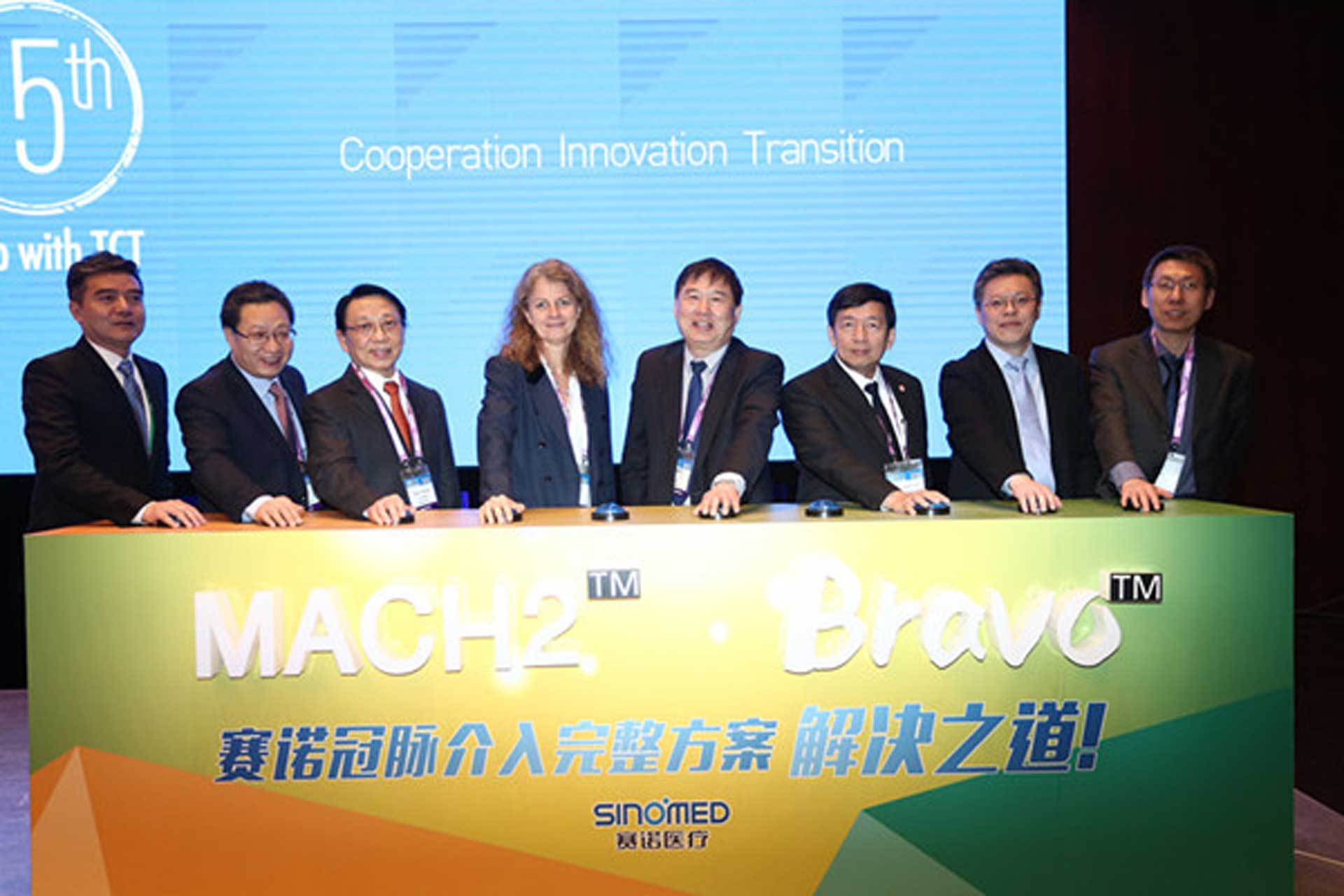 Prof. Alexandra Lansky from Yale University introduced the global PIONEER III IDE Pivotal Trial in US, Europe and Japan. This trial will enrol 1632 patients globally and is designed to evaluate non-inferiority between BuMA Supreme™ and Everolimus biostable drug-eluting stents in the primary endpoint of 1-year TLF.' Compared to other stent platforms,BuMA Supreme™attempts to restore endothelial function and minimize inflammatory response as it has the shortest time course for drug delivery and polymer dissolution. This study differentiate itself by not being an All-comers study but a More-comers study, as it includes patients with ACS and complex disease such as multi-lesions per patient.' Aldus prof. Lansky. The trial will be overseen by Executive Committee members including Prof. Martin B. Leon, Prof. Dean Kereiakes, prof. Stephan Windecker, prof. Alexandra Lansky and prof. Andreas Baumbach.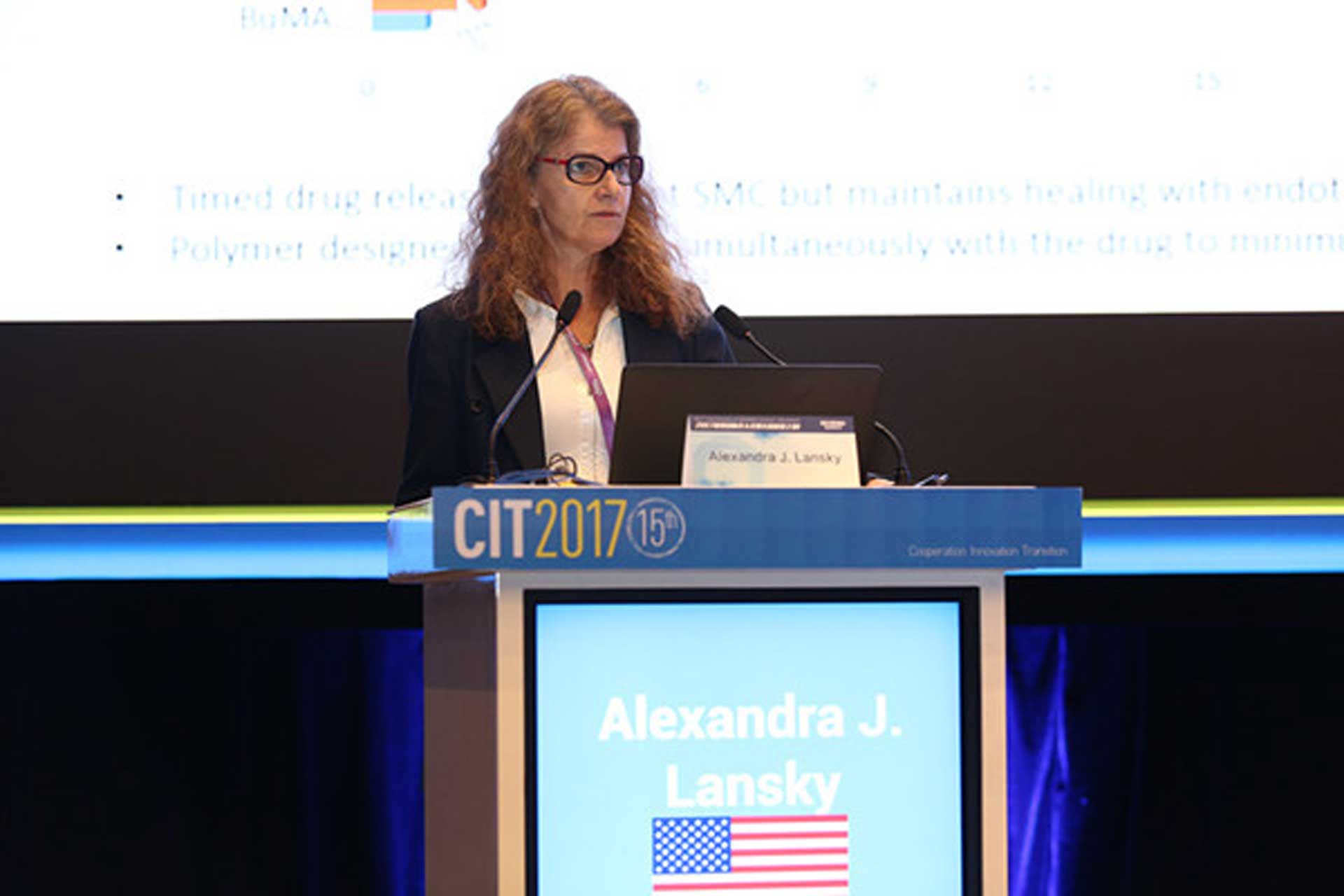 Next to the ongoing studies of BuMA Supreme™, Prof. Xu Bo from Fuwai Hospital, Beijing, presented the 2-year results of the PANDA III, a Prospective Randomized Trial of Two Sirolimus-Eluting Bioresorbable-Polymer-Based Metallic Stents (BuMA™ compared with Excel™) with varying elution and absorption kinetics (2350 patients in China). 2-year results in the PTE population showed TLF rates of 7.2% and 7.0% (P = 0.86), respectively. BuMA™ (with eG™ base layer) SES maintained superiority in incidence of definite or probable stent thrombosis at 2-year compared with Excel™ SES: 0.4% vs. 1.3% P = 0.03.
Furthermore, a subgroup analysis in AMI patients from the randomized PANDA III trial was recently published in Catheterization and Cardiovascular Interventions (2017). This subgroup analysis included 732 patients presenting with recent (<1 month) to assess the impact of varying drug elution and polymer absorption kinetics of biodegradable polymer (BP) DES on clinical outcomes in the AMI population. The primary endpoint was 1-year TLF. BuMA™ was associated with similar incidences of TLF and PoCE (5.5% vs. 8.3%, P=0.14; 8.8% vs. 9.9%, P=0.61, respectively) but lower incidences of MI (2.5% vs. 6.1%, P=0.02), target vessel MI (2.2% vs. 5.8%, P=0.01), and definite/probable ST (0.3% vs. 2.2%, P=0.04). These results indicated that BuMA™, with faster drug elution rate and polymer absorption kinetics, might improve safety outcomes compared to Excel SES in the high-risk AMI population.
With these exciting studies ongoing, the BuMA Supreme™, with its unique mechanical features and drug release kinetics that encourages early vascular healing process and minimizes the occurrence of late stage events, is headed into a great future, potentially shifting the current DAPT approach to a new paradigm.
Background: BRAVO™ is a non-compliant balloon catheter designed for optimal post- dilatation of coronary stents. With a highest rate burst pressure combined with low compliance, it optimizes dilatation and achieves superior stent apposition. MACH2™ a semi-compliant balloon catheter specially designed for a low crossing profile that easily allows access for both simple and complex lesions.