The 12th China Interventional Therapeutics Conference (CIT) was held from 20th to 23rd March in Shanghai. SINOMED hosted a Luncheon Symposium during CIT. The content is separated into two parts: 2nd generation BuMA™ developing oversea and BuMA™ homeland. Prof. Renu Virmani MD. who is a famous pathologist from USA illustrated the animal study. All results show that BuMA™ has a perfect endothelialization. And then Prof. Patrick Serruys introduced a new study design of the multi-centre FIM- trial comparing 2nd generation BuMA™ with Resolute Integrity™. The objective of this study is to evaluate the efficacy of 2nd generation BuMA™ as compared to Resolute™ stent in reducing restenosis in patients with de novo coronary artery disease. 9-month angiographic late loss will be observed between the two types of stent. This study will initiate in European countries.(Click here for full presentation)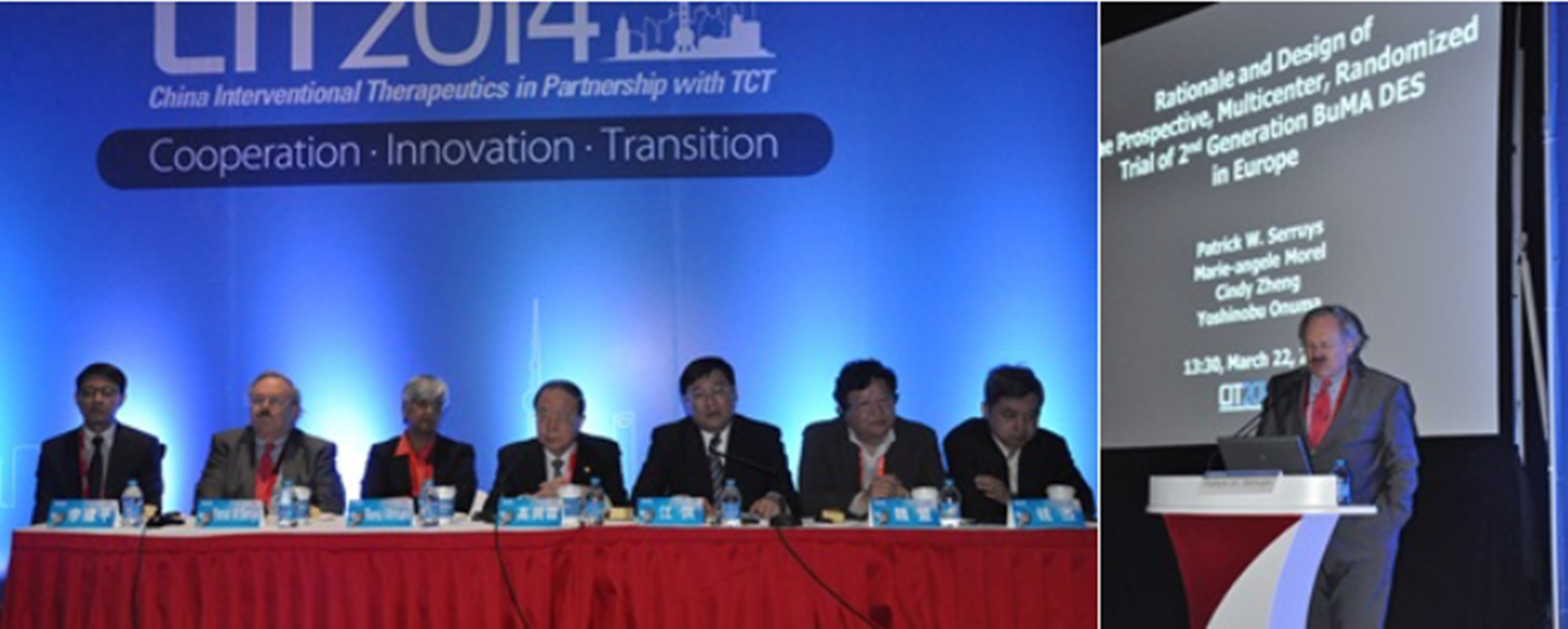 Prof. Jianping Li from Peking University First Hospital shared thelatest progress regarding PANDA-II real-world registry trial of BuMA™ with 58 participating centers in China. In total, 2699 patients have enrolled since 2011. Preliminary results have shown a 6-month MACE event of 0.33% (9 cases) and probable ST of 0.15% (4 cases). Other secondary endpoints are undue or without occurrence. And implantation success rate reached 100%. Prof. Jianping Li concluded that BuMA™ demonstrates superior instant safety and efficacy.
Prof. Jie Qian from Fu Wai cardiology center illustrated PANDA-III and BuMA™ OCT. This trial is compared BuMA™ to EXCEL™. The aim of the study is to compare early (3 months) neointimal formation between the two Biodegradable polymer drug-eluting stents, both of which have 316L Stainless steel platform and release sirolimus, but with different biodegradable coating designs. And use OCT result as a criteria to compare. The results showed significant difference between two groups (94.18% vs. 89.98%, BuMA™ vs. EXCEL™, p<0.0001), favorable for BuMA™. This is suspected to be contributed by BuMA™'s unique eG™ coating technology. At the same time, duration and composition of DAPT treatment after these two types of DES might be different. However, large-scale trial is required to further confirm the real clinical difference.